---
AcornArea
AcornTMArea from company XiGo Nanotools is a revolutionary instrument for specific area measurement of particles in any kind of liquid. This patented technology is based upon nuclear magnetic resonance (NMR) and offers a lot of advantages in comparison with conventional techniques of specific area measurement.
Measurements with AcornTMArea are easy and intuitive. Suspensions can be noninvasively measured without dilution. Standard NMR vials are used for measurement, minimal amount of sample is 1 ml. Measurement is run with a single press of a button in AreaQuantTM software and in a couple of minutes; the specific area of particles is available.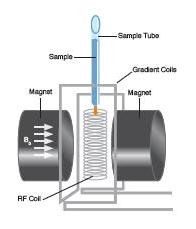 Measurement principle: Molecules of liquid in contact with particle surface in high frequency magnetic field have different properties than molecules in the bulk of the liquid. This effect can be very effectively observed by NMR relaxation. Using the AreaQuantTM software, it is possible to distinguish between these two kinds of behavior and determine the value of specific surface area.
Advantages of AcornTMArea:
the instrument is robust, but small and light weight

there are no moving parts or complicated adjustments

instrument is designed for use in R&D or Quality control laboratory

instrument is compatible with Windows XP,

Vista

and Windows 7
Applications:
AcornTMArea can work with wide spectrum of materials in almost any kind of liquid in various fields:
Ceramics

Pharmacy + cosmetics

Food industry

Catalysts

Pigments and fillers

Anorganic/organic powders

Emulsions

Porous materials
AcornTMArea is a suitable tool for solid particles of any shape up to high concentrations. Great advantage is a dramatic saving of time thanks to minimal sample preparation, which increases throughput of the instrument. Important processes, like milling, can be monitored almost in real time.
Specifications:
Interface: USB
Operating system: Windows XP, Vista, Windows 7
Voltage: 100-240 VAC 50/60 Hz
Power consumption: 120 W
Dimensions: 270x360x40 mm (délka, šířka, výška)
Weight: 7 kg
Further information can be found on manufacturers website.
---
---