---
GDA-FR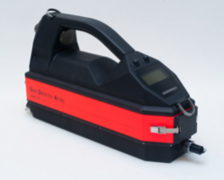 Portable hazardous gas and chemical detector.
The Portable Gas Detector Array is a battery powered detector specifically designed to measure and monitor most common gases. This unit is used by police, fire departments and many other public safety users. many different public safety operators. The GDA instrument was designed to detect and identify toxic industrial compounds (TICs) and chemical warfare agents (CWAs) - with optional extensions to a range of the most common explosives.
With a hybrid sensor array, it alerts on a wide range of hazardous gases. It offers a high level of safety without the need to select the "right" detector. Alarms are triggered as soon as gases are detected in dangerous concentrations - whether in the ppb or ppm range. Compounds corresponding to customizable libraries are automatically displayed on the screen. The GDA is permanently ready for use. Dedicated gas flow control allows for faster deployment and the instrument retains its sensitivity and reliability.
For more information, see the information leaflet below.
---
---