---
MX908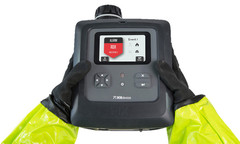 The MX908 is a unique mobile mass spectrometer for the detection of hazardous substances. It is the successor to the M908, which was the first commercially available spectrometer using HPMS (High Pressure Mass Spectrometry) technology. The device uses a completely new miniaturized ion trap technology operating under elevated pressure. This has produced a miniaturised and robust mass spectrometer (not using standard vacuum pumps) that achieves very good resolution. The device allows direct analysis of gaseous samples as well as analysis of solid samples and swabs.
The MX908 spectrometer is designed for use in extreme conditions, is easy to operate even in heavy protective equipment and can be used directly in the "hot zone". Used algorithms perform a fully automatic analysis, allowing the operator to focus on the detection and identification of the most hazardous substances in gaseous, liquid, solid or, more recently, aerosolized form. Results are available in seconds (every 1 s for air analysis) or tens of seconds (thermal desorption, aerosol analysis) and with excellent selectivity with low risk of being affected by low hazard background substances or false positive alarms.
The spectrometer also overcomes many of the other difficulties previously associated with IMS spectrometers or mobile GC-MS spectrometers. It reaches full operational status in less than 1 minute after power-up, has a large dynamic range, and does not suffer from cleanup problems after being saturated by high concentration. Typical cleaning times are in the tens of seconds.
---
---