---
RedWave technology
ThreatID
The ThreatID mobile FT-IR spectrometer from RedWave technology is a unique new product that fills the niche between laboratory instruments and handheld FT-IR spectrometers for rapid hot zone analysis (such as the TruDefender FTX). ThreatID was designed from the outset for use in harsh environments. The spectrometer offers excellent instrument performance, robust design and rigorous optimization for chemical detection of substances in the field. The ATR attachment and gas cuvette can be changed quickly and on the fly, allowing the spectrometer to analyze gases, vapors, liquids and solids all in one portable and rugged instrument.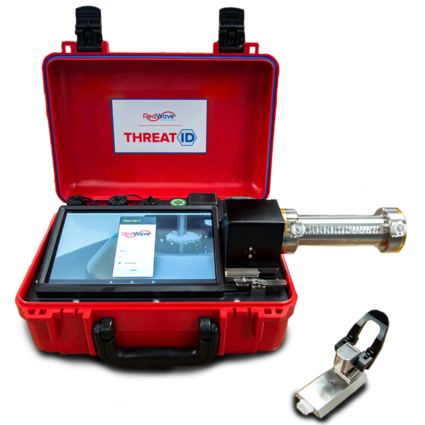 Durable design, interface optimized for working in protective equipment. IP67 resistance when working with the ATR attachment. Possibility of decontamination.

Powered by internal replaceable LiOn battery, battery replacement without shutdown and interruption of work.

Quick change of ATR attachment and gas cuvette in the field in less than 20 seconds, no adjustments required, automatic attachment identification.

Gas cuvette optimised for fast identification of gases and vapours with 4 m optical path

Identification of more than 23,000 solids and liquids

Identification of more than 5,500 gases and vapours, for most substances from concentrations of 25 - 50 ppm

Automatic and manual analysis of mixtures, spectrum operations, assignment of peaks in the spectrum to functional groups, alerting to the presence of proteins (biological substances), automatic subtraction of water spectra.

Wide connectivity options: Wi-Fi, Bluetooth, Ethernet and USB, wireless sharing of protocols and spectra with external PC (via Bluetooth) or Internet (WiFi).

Remote control and diagnostics from PCs connected to the Internet.

Internal databases of information on identified substances - ThreatAssist (RedWave database), NISOH and online search at the touch of an icon (Google, PubChem, Wiser.....). Inserting this information into logs.

Flexible log creation system, user can influence the appearance and content of the logs.

On-line upgrade of software and libraries when connected to the Internet

Basic information video
Video showing operating the instrument and change of modules
You can find more information on manufacturers website or in the information brochure below.
---
---