---
identiFINDER R300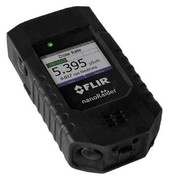 The nanoRaider spectrometer (identiFINDER R 300) has been named the world's best CBRN product for 2013!
The identifinder R300 is the most powerful so-called SPRD (Spectroscopic Personal Radiation Detector) on the market today. The R300 is equipped with a new generation of very high spectral resolution detectors based on CdZnTe, the spectral resolution is 3.5% FWHM! It is thus able to perform automatic isotope identification even in complicated materials.
The R300 offers a very compact size (70 mm x 33 mm x 125 mm ) and a low weight of only 340g for the whole spectrometer in working condition including the battery. The spectrometer can also be optionally equipped with an internal tritium neutron detector.
The R300 also uses the standard software interface typical of all Identifinder R-series gamma spectrometers, this interface is recognized worldwide for its ease and clarity of use. With over 20,000 units installed, the Identifinder R-Series is the most widely used mobile radioisotope identification device worldwide.
More information on manufacturer´s website or information brochure.
---
---