---
MobileDetect
MobileDetect Drug and Explosives Tests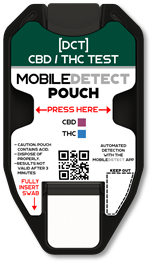 DetectaChem's MobileDetect tests are a new alternative to traditional colorimetric tests for field drug and explosives testing. The system uses a pouch in conjunction with objective evaluation using a mobile phone and an Android (7.0 or later) or iOS (13.0 or later) app. The image and video below shows the test flow using the MobileDetect cartridge.
How does MobileDetect work?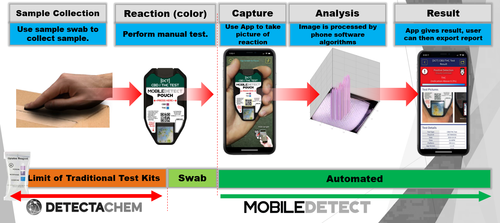 Sample collection is performed using a removable swab that is included with the pouch. The swab is then inserted back into the pouch where a colorimetric reaction occurs after the chemicals are released. The result of the colorimetric reaction is then analyzed using the MobileDetect mobile phone app, and the result can be exported to a report or shared to a server, including location.


DetectaChem offers a wide range of test pouches, the substances detected include:
Fentanyl, heroin, suboxone, oxycodone, other opiates
Cocaine, Methamphetamine, MDMA/Ecstasy, Adderall
THC and a special test to distinguish between THC and CBD cannabis (including fresh plants)
Synthetic cannabinoids and cathinones (K2, Spice, bath salts, etc.)
PCP, LSD, GHB, lyssol, ketamine
Other: Gunshot residue
MDT - Multi-drug test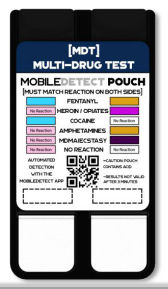 Detects fentanyl and distinguishes it from other opioids and other white powder substances. It combines several traditional test kits to provide a more comprehensive list of detected drugs.
Pouches for explosives detection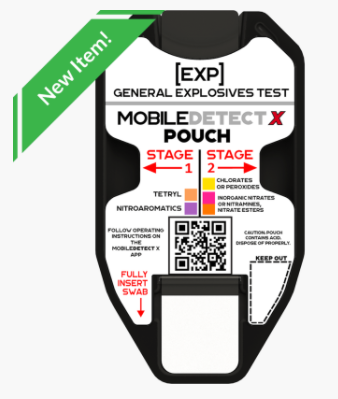 Also offered as a new product is a range of pouches for explosives detection. You can see its use in the video below.
For detailed information, including examples of analysis results for THC/CBD type cannabis, please see our Safety News No. 28 (download here)
Further information on all MobileDetect products offered can be found on the manufacturer's website or in the information brochure.
---
---