---
identiFINDER R200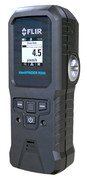 FLIR's new Indentifinder R200 is a breakthrough in the field of SPRD (Spectroscopic Personal Radiation Detector) detectors. The instrument offers the size and ruggedness of personal radiation detectors (fully compliant with ANSI N42.32) while delivering full functionality of a spectrometric device for radionuclide identification and meeting ANSI N42.48 requirements for SPRD detectors. At the same time, the cost of the equipment has been significantly reduced, thus for the first time an SPRD system is available for mass deployment and is thus able to meet the requirements arising from the current security situation (the need to deploy a large number of units in border protection, controlling the movement of a large number of people, protecting large gatherings of people and important objects.
The R200 uses a completely new generation of detector technology developed by FLIR (combination of SiPM detection technology with CsI detector), which offers high robustness and stability with significantly reduced power consumption. The R200 thus offers a resolution of better than 7.5% FWHM, meeting drop test resistance from up to 1.5m! and IP67 rated durability. The R200 performs its own fully automatic power calibration and stabilization without any need for user intervention. The R200 can run continuously on the internal battery for 36 hours plus an additional 18 hours on a standard replaceable battery type R123.
The R200 also uses the standard software interface typical of all Identifinder R-series gamma spectrometers, this interface is recognised worldwide for its ease and clarity of use. With over 20,000 units installed, the Identifinder R-Series is the most widely used mobile radioisotope identification device worldwide.
You can find more information on manufacturer´s website or in the brochure below.
---
---