---
TruScan
TruScan is a robust system designed for quick and precise material identification combined with easy operation. It is mostly used for inspection of pharmaceuticals and raw materials in chemical industry. The inspection can be performed upon receipt, output or sale of the raw materials. It is also possible to inspect intermediates and final products. Using Raman spectroscopy TruScan quickly and easily detects any material substitutions and confirms, whether the substance declared on the package is the one inside. It is possible to scan without contact - through glass or plastic.
TruScan characteristics:
Handheld device - with its weight 1,8 kg, TruScan can be used in storages, at distributors or anywhere else, where quick inspection of compounds is needed.
Ease of use - the device uses intuitive user interface and ensures minimalization of mistakes caused by the user.
Quick results - TruScan quickly analyzes the material provides basis for determinging, whether it is the substance declared, in about 30 seconds. Furthermore, the point-and-shoot measurement mode allows sampling through packaging. This prevents contaminations, speeds up sampling and can protect operator from being exposed to hazardous materials.
Fluency of work - the software ensures compliance with the SOP rules (Standard operating procedure) or method, that was chosen for the given sample (by three stage, password protected authorization).
Robust - TruScan design is derived from army requirements for robustness. The instrument is not susceptible to vibrations, has been tested thoroughly in drop-tests, is able to function in extreme temperatures and in enviroments with high humidity.
Validation and rules compliance - TruScan is designed to work in 21CRF enviroment, part 11 and it has UL and CE certificate.
Optional accessories include vial holder, universal pill holder and FlexProbe - extension probe with optical fiber.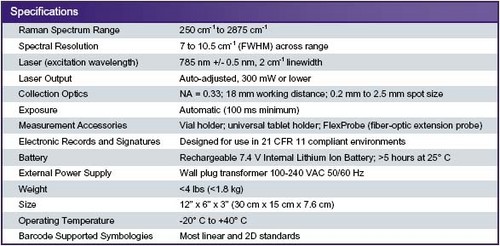 Further information on manufacturers website.
---
---